Desktop as a Service
Join the latest revolution of remote working. Access your business desktops, emails, systems and applications remotely with Hyve's Desktop as a Service (DaaS) and Hosted Desktop solutions.
DaaS takes the headache out of running your own IT infrastructure in-house.
What is Desktop as a Service?
Desktop as a Service is a remotely hosted cloud-based solution which delivers office desktops, business-critical applications, and emails to users.
Partners
We partner with the industry-leading provider Microsoft for our Desktop as a Service solution.

How does DaaS work?
Hyve's Desktop as a Service solution runs on Hyve Cloud Infrastructure, it allows your users to access your office, from any location and any device.
Suitable for running:
Accounts Systems such as QuickBooks and Sage
Microsoft Office Suite
Proprietary applications
Legacy Client-Server applications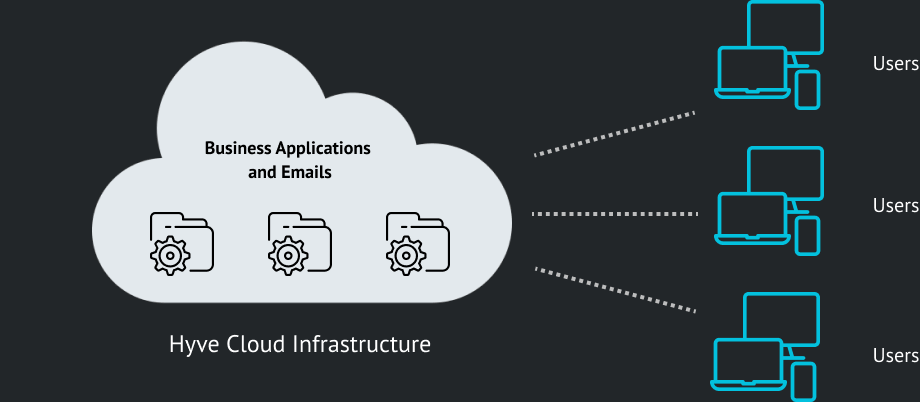 5 Reasons you should be using Desktop as a Service
With businesses doing their best to continue operations during lockdown, it is essential to securely connect employees across multiple locations and continue to work as normal.
Desktop as a Service is one solution that can help with this, so here are 5 reasons why your business should be using Desktop as a Service.
Hyve's Desktop as a Service is best suited to businesses who require less than 20 desktops. If you have a larger requirement, visit our VDI page.
Benefits of Desktop as a Service with Hyve
Costs
Simplified, fixed monthly payments with no up-front costs. As DaaS is cloud-based, you only pay for what you use.
Performance
In independent testing, our cloud platform outperforms AWS, Rackspace and Google. See the results here. This will improve your user's experience when using their desktop remotely.
Security
Data is stored in a tier-3 enhanced data center instead of your office. Your systems can be added to our managed patching process ensuring no vulnerabilities are present.
Extra Mile Support
Our Extra Mile Support provides you with dedicated Technical Support Engineers who will be assigned to your account. They will be familiar with you and your business needs saving time and money.
Compliance
We are highly compliant with ISO 27001, ISO 27017 and ISO9001. We have also been awarded PCI-DSS compliance.
Control
Simplified software licensing model and centralised management of desktops. Avoid the headache of setting up individual office computers.
Trustpilot Hyve Managed Hosting Customer Reviews 2019
Hyve are 100% carbon neutral. We use carbon offsetting to balance out the release of carbon dioxide from our offices and infrastructure.